Trick or Treat, Spooky and Sweet: Halloween Couples Costumes
Halloween is right around the corner which means it's time to start planning your costume. And if you're in a relationship, you might be thinking of possible couples costumes.
That's not necessary, of course – you can always spend Halloween together with totally separate attire. But couples costumes are a really fun way of celebrating the spooky season. Just make sure to pick something that isn't going to be in poor taste. (Seriously, no one go as Gabby Petito and Brian Laundrie this year.)
With that in mind, I've put together a list of the best Halloween Couples Costumes to consider this year.
Best Couples Costumes for Halloween
1. Superman and Lois Lane
This is such a cute and easy costume idea for couples! Most of the stuff you'll need are things that you probably already have lying around. And if you don't, you can get them at an affordable price and reuse on all the non-Halloween days of the year.
For guys – you'll just need to wear a Superman shirt underneath an Oxford button-down. Your button down should be opened at the top, though, so people can see what you're going for.
And as for Lois Lane, its equally easy. Just pair a white shirt with a pencil skirt and heels. Add in glasses or a vest too if you really want to go all out.
2. Santa and Mrs. Claus
Of all the couples costumes on this list, Santa and Mrs. Claus might be my favorite. It's so cute and unique – and also, Christmas!
I'm not super into Halloween, but I LOVE Christmas. And with this costume, you already have something to wear for the next major holiday, too. (Unless of course, you're someone who dresses up for Thanksgiving. Then you're on your own.)
Plus, as fun as couples costumes are, for those of you with kids it's even more fun to get the whole family involved.
With this one, you can include your kids as either elves or reindeer. Adorable!
3. Sandy and Danny from Grease
OK, OK, so the feminist in me doesn't love this iconic duo. (I mean, let's be real – she gets the guy in the end, but she has to change to do it? Not a great lesson.) But still, the fashion lover in me is here for this couples costume idea!
Plus, Grease is a classic.
4. Bonnie and Clyde
There's almost no duo more iconic than Bonnie and Clyde. These American bank robbers also make for a really easy look (in fact, it's one of the couples costumes on this list that's fairly DIY.)
You might not own all of the necessary attire (if you've got a beret somewhere, then good on you!) But everything you need is something you can re-wear whenever. Even if you want to get a yellow or caramel colored sweater, for instance, it'll be perfect for the rest of Autumn.
5. Fireman and Dalmatian
I have to admit, I absolutely LOVE this one.
It's not as easy or re-usable as some of the other costumes on this list. But goddamn is it cute!
Plus, this is another one of those couples costumes that can easily be accommodated for a family.
You can find a cute fire-woman outfit, too, and both parents can dress as Firefighters with dalmatian little one(s).
Especially for those of you who have really young babies, the cost'll be worth the adorable family photo you'll get out of it.
FYI – there are plenty of actual dalmatian costumes (like, full on costumes) for women. Some of which are super cute!
But I'm a huge fan of being (at least a little) practical, so I'd go with a black dot skirt and black shirt.
6. Steampunk Couple
Steampunk is a thing. So, of course, steampunk couples costumes are also a thing.
Now, full disclosure, I don't actually get steampunk. Like, at all. Is it sci-fi? Punk? Old-timey? A combination of all three?
(Here's the Wiki page for those of you who are similarly confused.)
What's really funny, though is that John is a fan of steampunk. In fact, he was some sort of steampunk scientist for Halloween one year (it was his pre-dating bitch era, though.)
And I gotta admit, the outfits are on point.
7. Angel and Devil
Ah, a Halloween classic.
Angel and Devil – you probably dressed like this as a kid. But now it's been updated for couples!
This one's pretty basic, sure. But, there's always a way to make it cute!
One of you will obviously go as an angel while the other dresses as a devil.
Of course, me being a fan of practical shopping, I'd keep it simple. Get a devil headband and angel halo and then pair it with a red or white shirt or dress.
Who goes as who is totally up to you. But I think it's a fun idea to have a male angel and a female devil. Also, easier! Your guy likely already has a white t-shirt. So all you need is a smoking hot red dress!
Easy, affordable, cute! Done.
8. Witch and Warlock
OK, so this is another kinda basic costume idea. And, in all honesty, I don't even think it's that great of a couples costume.
So, why do I have it on this list of "best couples costumes" you ask?
Simple – it's ADORABLE as a family costume. So if you're a couple with a baby, this is literally the cutest possible family costume.
Witch and Warlock, easy. Then, you can have your little one as a bat OR a black cat. Babies are beyond cute in Halloween costumes like this.
And I couldn't leave it off the list for that reason alone.
9. Ross and Rachel
This one is by far the easiest one on the list.
If you're a fan of Friends, you probably remember when Ross and Rachel went to Vegas. Ross drew a mustache on her face. She, then, drew whiskers (and for some reason, his name?) on his face. And they proceeded to have a drunken night together.
So, all you actually need for this costume is a marker. See – told you it was the easiest one!
Related Read: DIY Starbucks Frappuccino & Barista Costume
10. Mr. and Mrs. Smith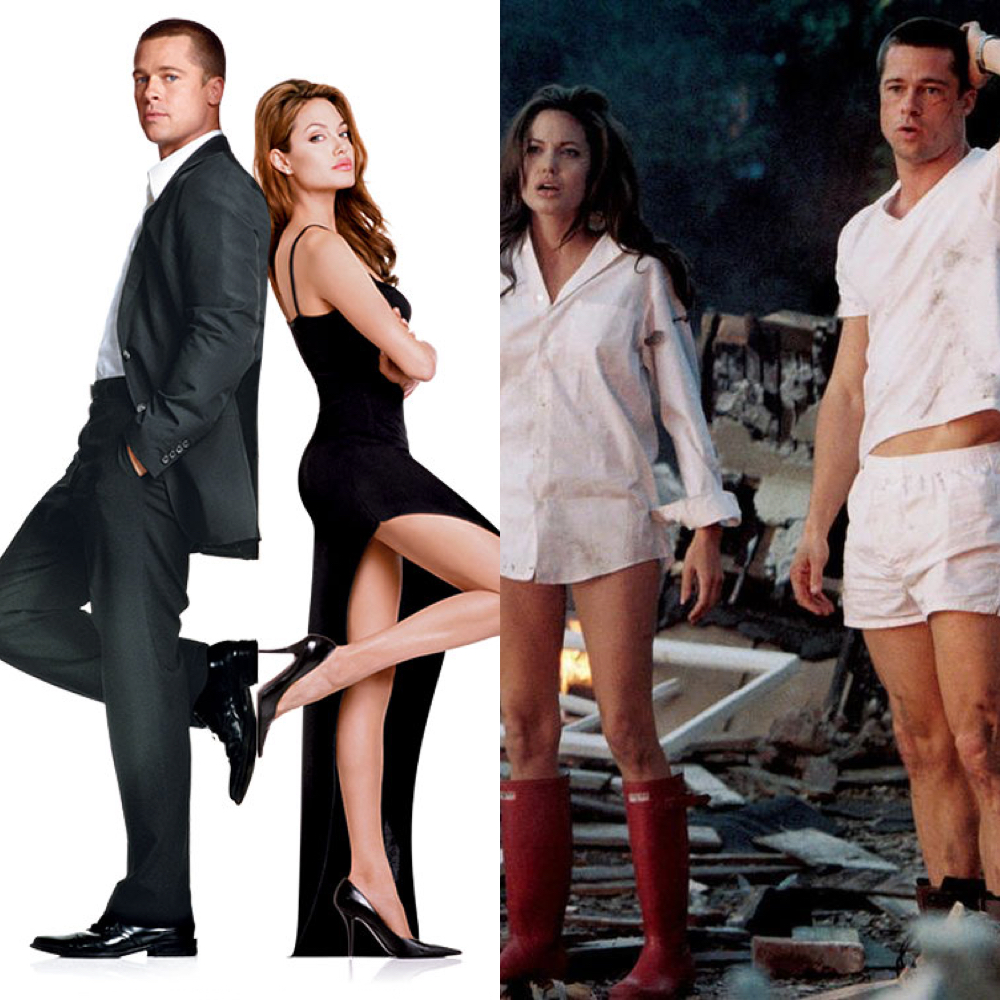 This is another easy idea for a couples costume this year. Plus, you have a few different options!
You can go as the dressy version – all you need to do is pair a suit with an elegant black dress and heels. And, of course, stand back to back every so often so people know what you're going for.
Or, you can go as the couple at the end. Both in all white attire after an explosion.
For this look, all you need is a button down white shirt. If you're really extra you can grab a pair of red boots too. And for him, a plain white shirt and white shorts will complete the look.
11. Ghosts
OK, final costume idea is another super easy one.
But, honestly, it's kind of genius in it's simplicity. All you need is a sheet and a pair of sunglasses. And voila! You're a ghost!
Tell people you're a pair of millennials on tinder and see how many get the joke.
Conclusion
Those are my favorite couples costumes to consider for Halloween this year. And, of course, I want to hear from you!
Have you ever done a couples costume before? Do you have any additional costume ideas to add to my list? Let me know in the comments below!
As always, thanks for reading
xx
Katie
Pin this Post for Later!